From making his test debut against England at Lords where he made 95 runs on June 22, 1996, till date, Rahul 'Jammy' Dravid has taught various disciplines of life and to carry on one's innings despite the minute obstacles/ pitfalls in life.
"There is no substitute of hard work, passion, dedication & consistency and it will surely lead you to success, however long it takes." – This is surely the teaching one can abstract from the life of the one 'True Gentleman of Cricket'.
Rahul Dravid also passed on his expertise with the young talents of the team by coaching the U-19 & A side of the national cricket team along with mentoring in IPL which produced talented cricketers who are currently seen as carrying ahead the legacy of Indian cricket. This teaches us that giving our best is not only mandatory but also passing on the batter to the next & always sharing one's experience is important because whether it's cricket, life or achievements; the true happiness lies in being a part of it- directly/indirectly.
One of the best slip fielders of India and the most dependable Test batsmen, Rahul Dravid faced many downfalls such as getting eliminated during ICC Cricket World Cup 2007 as captain to not having a successful IPL journey as a player. But leading India to Under 19 Cricket World Cup 2018 and working as a mentor with IPL teams, he always produced great talents to Indian cricket; which taught me to keep moving forward in life as any particular disappointment is not permanent and could be resolved through being consistent and dedicated in life, no matter however long it takes.
Rahul Dravid made his test debut for India as a replacement of Sanjay Manjrekar in the 2nd test against England in Lords. Coming to bat down the order at No 7, Dravid scored 95 runs and indulged in a crucial partnership with Ganguly which helped India to get a lead of 65 runs. The match ended in a draw.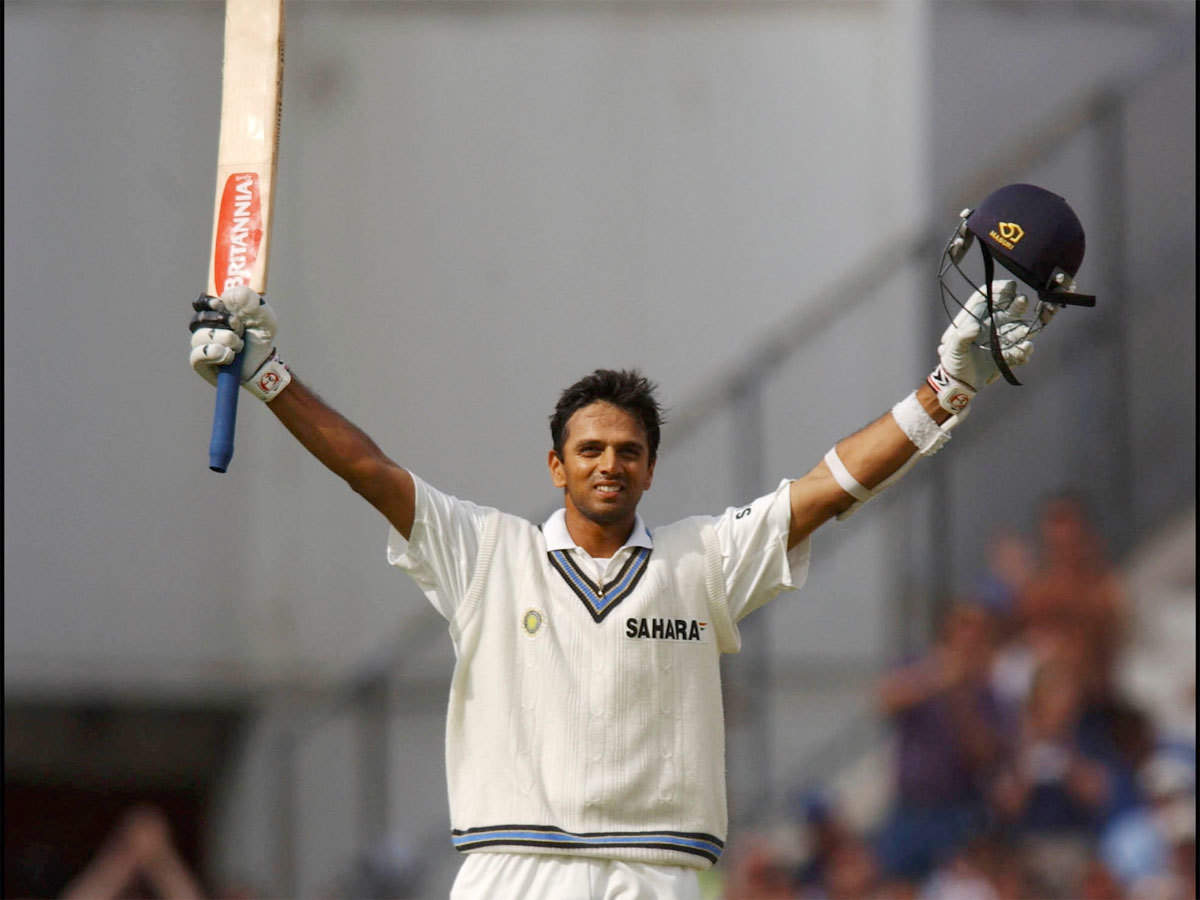 On July 23, 2011, Dravid punched his fist in the air as he finally brought up the 3 digit score at the iconic ground. The joy of finally bridging the gap of 5 runs after 15 years and the celebration teaches us that success seeks one who seeks patience and hard work. Jammy has never failed to inspire cricket fanatics across the nation & world throughout his career.
210 catches from 164 Test matches: Highest for the non-wicketkeeper fielder.
First international cricketer to score 10,000 + runs batting at No.3
In a Test match, faced deliveries (31,258) & most time spent close to 736 hours: Both a World Record.
40 consecutive dots played in Sydney'08 Test match famously known as 'SCG Dry spell'
3 consecutive sixers in his first & only T20I in Manchester'11 or the 50 runs against New Zealand (Strike Rate of 227.27) which was the then second-fastest ODI innings by an Indian batsman showcased that Rahul Dravid was a player of all formats.
2003 was a tough phase for Dravid according to his own words both mentally & physically, he embarked on a three-month tour to Scotland where he gave his all to the county cricket notching 600 runs at a strike rate of 66.66 in 11 outings. Passing on his skills with the youngsters despite difficulties was worth praising.
He was named one of the best 5 cricketers of the year by 'Wisden Cricketers' Almanack in 2000, received 'Player of the Year' & 'Test Player of the Year' awards at the inaugural ICC Awards ceremony in 2004.
Though his captaincy era which began in late 2005 after Ganguly, it was more of a critic in both formats including the declaration at a point when Sachin Tendulkar was playing at 194* in a test match in March'04 & defeat in Mumbai'06 against England which handed the latter their 1st test victory in India since 1985. However, he had his perks too while leading the national side in the red-ball format.
This includes the 2006 Test series win in the Caribbean (1-0) in 4 Test matches, where Dravid led by an example with 81 & 68 in the final & only test won as he ended the series being the highest scorer with 497 runs. The 2007 Test series triumph in England under the leadership of Dravid soon after the exile from the ODI WC earlier that year showcased his temperament & 'rise-after-fall' approach.
A similar kind of approach in the IPL 2013 spot-fixing controversy where he bought his perspective forward & proved why he is a man of integrity. Playing a total of 89 IPL matches (2008-13), he scored 2174 runs with a strike rate of above 115 & led Rajasthan Royals to the finals of Champions League T20 in 2013 & play-offs of IPL in the same year.
Rahul Dravid continues to play a crucial role at the National Cricket Academy, Bangalore as the Head of NCA by mentoring, coaching, training & motivating upcoming players.
One of the motivating quote given by the Wall himself:
"I batted 604 times for India. I didn't cross 50 runs 410 times out of those innings. I failed a lot more times than I succeeded. I am more a failure than a success, so I am quite qualified to talk about failure"
The fine gentleman even refused to receive a doctorate from Bangalore University & conferred that he would prefer earning it.