Mumbai defender Pratik Chaudhari spoke to us about his contract renewal, I-League preparations, gaffer Santosh Kashyap, his personal goals and the Mumbai fans. Pratik began his career with Air India in the I-League in the 2012-13 seasons. He then went on to play for Rangdajied United and Mohun Bagan in subsequent seasons. He signed for Mumbai last season and played for Kerala Blasters in the third season of ISL.
On his contract renewal with Mumbai…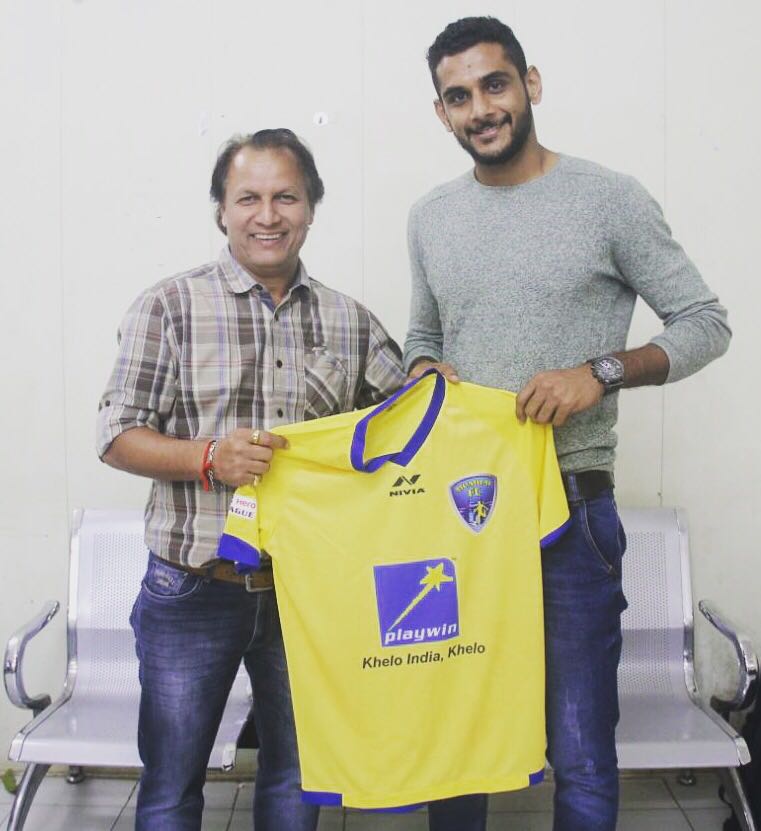 I am really thankful to the club for giving me the opportunity to play for Mumbai again. The club feels like a home to me and I am happy to be home again.
On the team goals for the season…
Every team aims for the top and we do too. We tried hard for it last season and got out best finish of 5th. We want to do better and aim for the top spot which is the main target for the team and the coach.
On his personal goals…
I want to give my all whenever I play for Mumbai FC. I want to play my part in getting the team to the top. I wish to play for the Indian National Team and will give my 100% to achieve that goal.
On the new coach Santosh Kashyap…
He is one of the most successful coaches in India currently and his past records haven proven that. I have huge respect for him as he was the one who gave me my break in the I-League when he brought me up from the youth team. The fact that I have played under him before allows me to adapt with ease to his philosophy and his expectations from me. He is a really good coach who likes to play attacking football.
On the fans in Mumbai…
The fans in Mumbai are really good and passionate. They are very enthusiastic and supportive of the team regardless of the result. The Yellow Brigade are present at all the home games and I feel they are like our 12th man and their support means a lot to me. I hope they keep doing so as it boosts our spirits up and spurs on to perform better.
Mumbai continue their preparations ahead of the I-League and Pratik Chaudhari will surely play a important part in the team's quest for glory.
On his ISL 2016 stint with Kerala Blasters and the fans….
I think the Kerala Blasters fan are one of the most passionate fans in the country today. They used to pack the stadiums almost 2 hours before the kickoff. The atmosphere is exhilarating and I was glad I could be part of it. Working with the Blasters staff was a learning opportunity and it was great working in such a well conducted professional setup. I would love to be a part of it again.